Wanna know a dirty little secret…? Of course you do! Everyone wants to know secrets!
Here's one of mine… I haven't shampoo-ed my hair for months.
When I tell people that, a general look of disgust crosses their face.
Seriously though, I really don't use shampoo and conditioner any more, and haven't done for months.
Firstly, let's take a look at how shampoo and conditioner actually work.
I've looked at the harsh chemicals and ingredients lurking in beauty products before (see What's really lurking in your toiletries cupboard), but today I want to look at the effects of the average bottle of shampoo or conditioner…
Mass-produced shampoos which you buy in shops are just detergents full of chemicals to strip your hair and scalp of dirt and oil – the most well-known being Sodium Laureth Sulphate, or SLS.
You may have already heard some bad things about SLS… It was originally created for industrial use. When rinsed from the skin or hair, the product will have cleaned the area, but will also have taken moisture from the top layers of the skin or from the hair.
As a little side-note… when SLS gets into rivers and ponds, it can affect ducks and other water foul by 'cleaning' the natural oils from their feathers. This causes the feathers to lose their waterproofing, which can cause the birds to sink and drown.
I digress.
But we want the dirt to be stripped away, right? Well, no. You see, as well as getting rid of all the dirt and grease, shampoo also strips the hair of sebum (the natural oils created by your skin and which your skin and hair need to remain healthy).
Sulphates (a "family" of ingredients of which SLS is one) are synthetic detergents that can irritate sensitive scalps but also strip hair of essential oils and moisture – in the same way as over-use of soaps and shower gels loaded with sulphates can strip skin of its natural oils. So you can expect dry, damaged hair in the long-run.
So after you shampoo, your hair probably feels pretty horrible, so you apply conditioner. Why? To replace the natural oils in your hair that your shampoo has stripped away, with manufactured oils.
The results may be beautifully clean hair, but you probably have to wash it every day (or almost daily). I know I did. Why is this? Because, as I said above, the detergents in shampoo have stripped your hair, and more importantly your scalp of it's natural oils (sebum). And so your scalp goes into panic mode and over-produces sebum to try to make up for what was stripped away by your shampoo and keep its natural balance.
Then, of course, you wash your hair to get rid of the oiliness… And so it goes on – it's a vicious cycle.
So what's this no-poo hair care, then?
Basically, it's cleaning your hair without the use of shampoo and conditioner.
There are various ways to no-poo, but the most popular (and the one that I use) is to use baking soda to "wash" your hair, followed by a vinegar rinse – yep, no-poo hair care is really cheap and you only need two simple ingredients that you can find in any supermarket!
Because baking soda is not a detergent, when you wash your hair using the no-poo method the sebum your scalp produces doesn't get stripped away. As a result, your hair becomes naturally healthier because natural oils aren't stripped away. And because your scalp can keep its balance, it will not produce as much oil in compensation. You'll probably also find that you don't need to wash your hair as often – I can go anywhere from a couple of days to a week between washes.
What other benefits are there?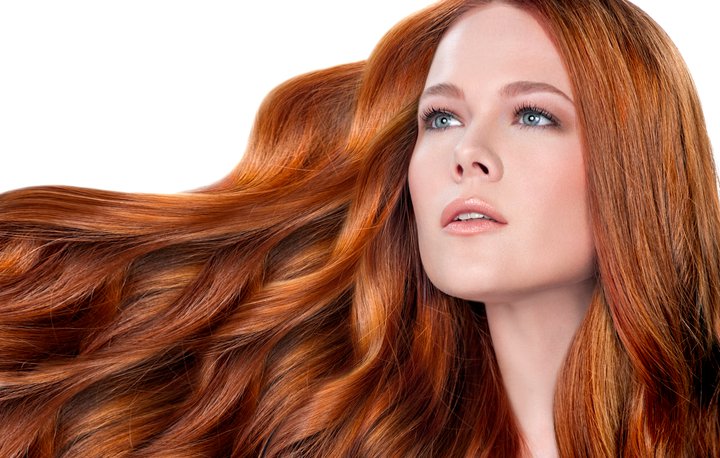 As you can imagine, there will be an adjustment period when you start using no-poo, and your hair might be less-than-beautiful for a time. But when your hair and scalp are back in balance, you can expect…
more body – my previously limp, fine hair is now full of body
less oily hair
less frizz and fly-aways (great for curly hair)
added shine – blonde hair (which I have) naturally has less shine than darker hair, so I love the bonus of extra shine!
hair that's easier to style – my hair is so much more manageable these days
wash hair less often as your scalp will no longer be over producing oils (I know I already mentioned that, but it's a really good point)
no chemicals on your hair, scalp or down the drain – the Earth will love you too! (you probably know by now that I'm totally against harsh chemicals in any aspect of life so this is a step in the right direction)
more money in your purse – baking soda and vinegar are really cheap (a big difference from those fancy-looking shampoos and conditioners)
new hair growth (for some people) – I've noticed lots of new growth coming in. I put it down to the fact that my scalp is healthier
I have no personal experience of the following, but I've also heard that…
this method is SAFE for dyed hair
it's also GREAT for grey hair (some commercial shampoos can cause grey hair to yellow)
Before we start
Firstly, let me share with you a little tip which I found invaluable when I first went no-poo… you need to clarify your hair before you start.
Say what?!
Well… a lot of commercial shampoos and conditioners contain silicones (usually found on ingredients lists usually ending with "zane" "xane" "cone" or "conol"). Silicones are not water soluble so they get stuck to your hair and can cause damage. They build-up on the hair over time and actually stop conditioner and hair treatments from reaching the hair
Find a clarifying shampoo (there are loads on the market which will work for this purpose, and they tend to be fairly cheap) for your final wash with commercial shampoo. Use it as you would use a "normal" shampoo – follow the directions – lather, rinse, repeat. You want to get all the silicone off your hair. This will help to make your transition phase easier and help you get your gorgeous no-poo hair a bit faster. If you forget this step, don't worry, it just may make your transition period a bit longer.
When you've clarified, simply wait until you would normally wash your hair again and then start using the no-poo method.
How to wash your hair no-poo stylee…
It's really very simple.
Use sodium bicarbonate (baking soda) to "wash" your hair – remove dirt, debris and excess oil from your scalp and hair roots, and then use vinegar to "condition" the length of your hair.
What you need
clarifying Shampoo (for your last wash before you start No Poo, especially if you've used products containing silicones in the past)
baking Soda
vinegar (Use Apple Cider Vinegar for Dry to Normal Hair, White Vinegar for Normal to Oily Hair)
water
squirt Bottle with Pointed Tip (you could use an empty mustard bottle or something similar)
spray Bottle
no-poo hair care journal (I'll talk about this a bit more later)
Let's get to it!
create a solution of baking soda and water in your squeeze bottle – 1 tbsp of baking soda to 1 cup (250ml) of water. Try to use distilled water if you live in a hard water area. Make sure the baking soda has completely dissolved. The liquid should feel slippery in your hands (if it doesn't add another tbsp of baking soda).
create a solution of vinegar and water in your spray bottle – 2 tbsp of vinegar to 1 cup of water. Shake to combine.
WASH: wet hair and, using the pointed tip of the bottle, apply the baking soda solution to the roots of your hair and massage into your scalp with your fingertips using small circular motions. DO NOT apply this mixture to the entire length of your hair. Leave on till it starts to feel "slippery" then rinse well, I mean REALLY WELL.
CONDITION: spray the vinegar/water solution on the length of your hair, focusing on the ends. DO NOT apply to the roots and scalp. Leave this on for a minute or two before rinsing.
NOTE: the vinegar may smell quite strong while you're using it but don't worry, your hair will have no odour once it dries.
NOTE: You could add a few drops of essential oil to your hair brush – not only will this fragrance your hair, but your hair will benefit from the properties of the essential oil. Ylang-ylang is great if you want luscious locks, but lavender, chamomile, rosemary, and many others are also good.
What's gonna happen?
Let me say this now – no-poo is not like washing your hair with shampoo. For a start, there's no lather. Yes it can take a bit of getting used-to, and don't be surprised if your hair feels like hay, straw, or cotton the first few times (days or weeks) that you wash no-poo style, but the pay-off is worth it!
The easiest thing to do would be to plan on wearing your hair up or under wraps the first week or two.  I just kept my hair pulled back (a style I opt for regularly anyway) and no one noticed. I'll admit, I did get a bit paranoid for a while and kept asking everyone if my hair looked clean, and everyone assured me it was fine.
Dealing with the straw-like texture
Here are a few ideas to help you get through those first few days or weeks…
allow your hair to dry naturally – using heated styling products will dry the hair out even more.
deep-condition your hair with a non-oil conditioner. You could try aloe-vera gel (perhaps mixed with honey), or how about using a beaten egg, maybe you'd prefer mashed banana… the possibilities are endless.
apply a teeny-tiny amount of coconut or jojoba oil to your hair after it has been washed and is dry. Simply add a few drops to your palms, rub your hands together until there is just a light sheen on your hands, and then run your hands through your hair, avoiding the roots.
as I mentioned above, wear your hair up while your hair adjusts to this new routine.
What if my hair goes oily?
It's possible that you might end up with oily hair rather than the straw-like texture during your transition phase. Here are a few tips to dealing with it…
increase the amount of baking soda you use when you wash your hair
reduce the amount of vinegar in your conditioning solution
if you're using apple cider vinegar, try switching to plain white vinegar.
remember, don't apply your vinegar solution to the roots and scalp, just to the length of your hair.
make sure you rinse, rinse, rinse!
between no-poo washes, try a hot-water wash. It's as easy as it sounds – simply wash your hair with the hottest water you can stand (don't burn yourself!), then dry.
try using a dry shampoo, and I don't mean any of that spray-can rubbish! Blondes and red-heads, use cornflour or arrowroot powder on your roots and brush through. This will absorb the excess oil. Redheads could also use cinnamon. Brunettes could use coco-powder as you might find that cornflour or arrowroot leave your hair looking "grey". When my hair started to look a bit oily between no-poo washes, I used cornflour with a couple of drops of essential oil added to make my hair smell nice.
My scalp's all itchy and flaky!
I went through a couple of days of this. I found it was mostly because I wasn't rinsing the baking soda from my scalp completely. If you find that your scalp starts to get itchy and flaky, try the following…
be sure you are rinsing the baking soda completely from your hair – rinse, rinse, RINSE!
decrease the amount of baking soda you are using
apply aloe vera gel to your scalp to soothe any itchiness, leave for ten minutes and then rinse
do a scalp rinse with your vinegar solution to condition your scalp
What's this "hair journal" I mentioned?
If you've been reading my articles for a while, you'll know I love a good journal!
Whenever you try anything new which is going to take time and effort, it's always good to keep a journal of the experience. I love to use a pretty notebook, but you could use an app on your phone. You need to find something that you'll keep up with and write down your journey.
No-poo can be very much "trial and error" so keeping a hair journal will allow you to see what works and what doesn't – it will also help to limit the amount of time you spend in the "error" phase. It will help you remember how much you used when you washed and how long you've gone between washes. Your hair journal will keep the transition phase to a minimum.
Things to track in your hair journal:
current condition of your hair – shiny? dry? over-conditioned? anything note-worthy
days since last wash
amount of baking soda used
amount and type of vinegar in rinse used
results – after your hair dries, how does it compare to before you washed?
tweaks/notes – this is a personal journey to find what works for you (you don't have to stick to what I've written here) so track any adjustments you make to ratios of baking soda or vinegar rinse or any other notes you find important
What happens after the "adjustment phase"?
Hey girl! You stuck with it! How amazingly fantastic does your hair look and feel right now?!
Congratulate yourself on regaining balance for your  scalp and hair!
You may find that only have to wash your hair every few days (or less) and, hopefully, your hair has never looked better! Keep up the great work, and be happy in the knowledge that you're not only treating your hair well, you're treating the environment well, too!
All you have to do now is keep up the good work!
If you've given it a good try (like, for a month or so) and no-poo just isn't working for you, don't worry. There is nothing in this world which can work the same way for absolutely everyone – we're all different! For those who have no joy with no-poo, there is a mid-way. You could try using natural/organic shampoo and conditioner. These tend to be much more like "normal" shampoo and conditioner, but they don't contain any of the nasty chemicals we looked at earlier.
—
When I was researching the no-poo method before I first took the plunge myself, I found LOADS of sites and blog posts about it. This article is a culmination of all of the information I gathered and the best bits which worked on my personal no-poo journey.
—
UPDATED…
I was going to write a follow-up article to answer the many questions which have been left in the comments section, and which I get in emails and messages, but after reading through all the comments left below, I found that most of them have already been answered by other comments.
I love how our little community is evolving with everyone helping each other!
Before asking a question, please take the time to read through all the comments – you'll most probably find the answer you're looking for.
—
UPDATED (again)…
I know some of our comments have expressed problems with using this technique, or uncertainty about the possible damage caused by using these ingredients on your hair.
For that reason, we have spent many, many months researching and developing a range of natural shampoos. Our shampoos don't contain any of the nasty chemical ingredients I talk about in this article, and are easy to use (just like "normal" shampoo). I've been personally trialing them for a few months now and I absolutely LOVE the results – my hair is soft and silky like never before!
We're not quite ready to launch our shampoos to the world – we want to make sure they're exactly right before we do! Leave your details here, and you'll be first to know when they're available.
—
UPDATED (for a third time)…
It's finally here! Our first natural shampoo has been released!
With soothing lemon balm extract, calming chamomile, and lavender to heal unhappy scalps, Geranium & Ylang-Ylang Shampoo uses a blend of gorgeous natural ingredients.
Formulated for 'normal' hair, this shampoo will gently cleanse your hair and scalp, and leave your hair beautifully soft and shiny. Continued use will encourage and promote more luxurious and healthy hair growth.
There will be other shampoos added to this range in time. We're planning shampoo for oily hair, dry & damaged hair, sensitive scalps… and maybe more, so watch this space!